Navantia is a state-owned company (SEPI Group), which designs and builds ships with a high technological content for the Spanish Navy and other navies. We integrate systems and provide life cycle support, repairs, modernization, and technology transfer (ToT) services in 20 countries. We are a highly export-oriented company.

Our activity focuses on three areas: Shipbuilding and Ship Repairs, Systems and Services and Green Energy, where we are an international benchmark in offshore wind energy.

Digital transformation and sustainability are our future axes: With more than 300 years of history, Navantia is today a company that develops cutting-edge technology (digital twin, 5G, Internet of Things, eco-efficient design, hydrogen technologies) and has a tractor effect on the entire value chain, innovating and creating highly qualified employment and growth.



We are a strategic company for the defence of Spain with high-tech projects such as the F-110 frigate and the S-80 submarine. We maintain and service the ships of the Spanish Navy.

We are implementing a digital transformation and have undertaken a cultural evolution and a rejuvenation of the workforce.

We promote R&D&I and have four University Chairs: José Romero Landa (Madrid Polytechnic), Isaac Peral (Cartagena Polytechnic), José Patiño Rosales (Cádiz), Cosme Álvarez de los Ríos (A Coruña). In addition, there is a Joint Research Unit (UMI) with the University of A Coruña.

We promote the image of Spain abroad: Subsidiaries in Australia and Saudi Arabia and offices in several countries (Norway, Brazil, Turkey, India). 68% of our revenues come from exports.

We are committed to the United Nations 2030 Agenda for Sustainable Development.

We are committed to sustainability in all our activity. Our shipyards are moving towards the circular economy and the goal of zero waste.
Strategic company
We promote the image of Spain
We encourage R&D&I
Digital transformation
We are sustainable
Committed to the Agenda 2030

IMPACT IN SPAIN
9,900

Direct jobs generated plus auxiliary industry
27,050

Direct, indirect, and induced jobs generated
6

Jobs created for every direct Navantia employment
€464m

Direct contribution to GDP
90%

Permanent contracts in Navantia
€+1,8

GDP per direct euro and auxiliary industry
20,8 hours

in training per employee
€1,313m

total contribution to national GDP
€+1.01

GDP per euro of turnover of Navantia
1,500

own engineers and graduates
€57.7m

invested in R+D+i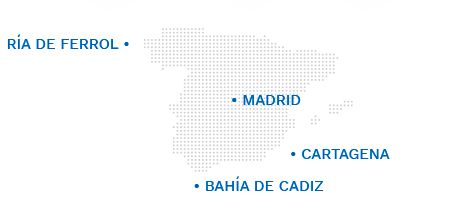 IMPACT IN PRODUCTION UNITS LOCATIONS
8,992

Jobs created in A Coruña
6,447

Jobs created in Murcia
11,611

Jobs created in Cádiz
13.8 %

of industrial GVA in A Coruña
6.8 %

of industrial GVA in Murcia
23.9 %

of industrial GVA in Cádiz