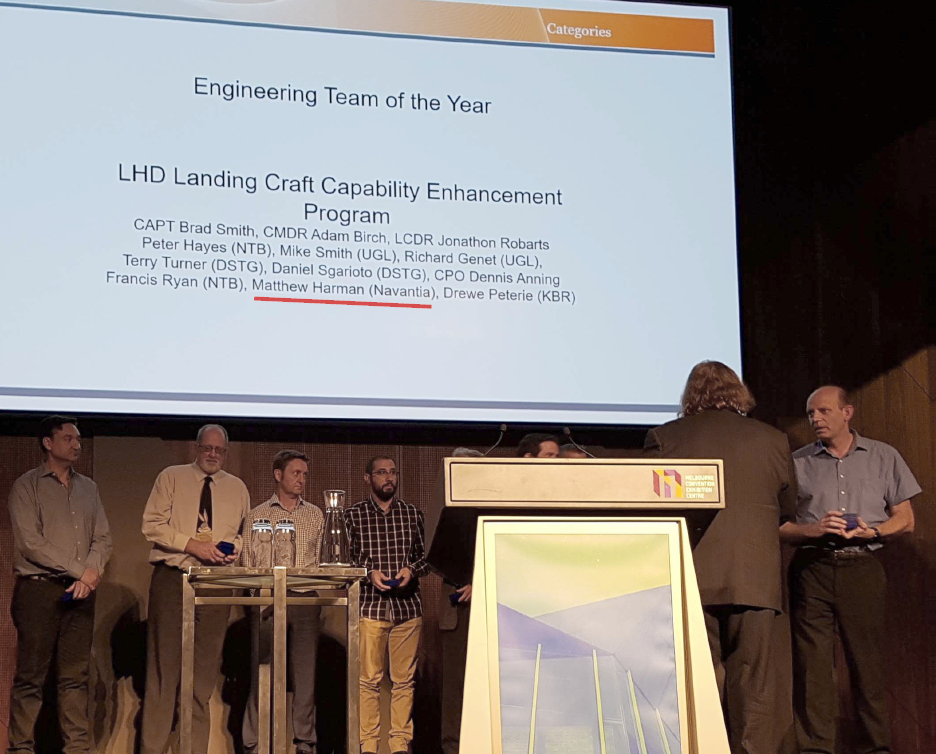 The Navantia Australian Engineering team, represented by Matthew Harman (General Design Lead) gratefully accepted the Gold Engineering Team of the Year commendation award from the CASG Chief Engineer Luke Brown.  This was the inaugural presentation of this award, approved by the CASG Deputy Secretary, Tony Fraser.
The Navantia Australia engineering team has worked in collaboration with the LHD System Program Office (SPO), Commonwealth regulators and industry partners to provide the Royal Australian Navy with an increased operating capability of the LHD Landing Craft (LLC), able to meet the demands introduced by new and heavier army vehicles.
The Navantia Australia (Melbourne Team) was singled out as an integral contributor to the team within the LLC Capability Enhancement Program (CEP) for their innovation and collaborative support in the development of the design solution. The solution has prevented an early replacement of the LLC and increased the operational performance profile.
The collaboration was highlighted for promoting the key CASG enterprise philosophy for collaboration between the Royal Australian Navy and industry.  The success of the project has created renewed enthusiasm for the LHD Landing Craft within the Australian defence force.