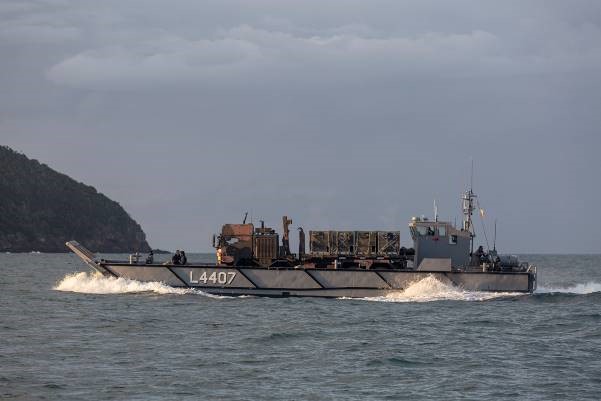 The Landing Helicopter Dock (LHD) Landing Craft (LLC) Enhancement Program is the winner of the 2020 Essington Lewis Awards – Minor Sustainment Activity – Under $20 million.
Navantia Australia, UGL, Defence Science and Technology, Navy Technical Bureau, led by the Amphibious Combat and Sealift System Program Office (ACSSPO), and Capability Support Coordinator, KBR, formed a collaborative multi-stakeholder engineering team to achieve a significant enhancement to the LLC capability.
Following a deep technical evaluation, the Team delivered design and construction solutions and new understandings that provide both immediate and long-term improvements to the LLCs. The solutions also provide enhanced capability for the LLC, which has resulted in long-term strategic benefits, including significant cost savings, for the Commonwealth and the Australian community over the next decade of service.
Navantia Australia's Chairman Mr Warren King said, "The LLC Enhancement Program win is an outstanding achievement and great example of defence and industry collaboration."
Navantia Australia's Managing Director, Alfonso García-Valdés said Navantia Australia's Melbourne Naval Design & Engineering Centre produced the design and installation package.
"This is a prime example of Navantia Australia's Engineering capability and commitment to supporting the Commonwealth of Australia, with the work performed in Australia for Australia, building on the Australian design knowledge a capability," concluded Mr García-Valdés.
Navantia Australia worked collaboratively with the Amphibious Combat and Sealift SPO (ACSSPO) to assist them with understanding of the LLC Design and capability.
The team undertook a systematic process to evaluate the customer operational requirements and developed a number of options to improve the LLC overall capability. Through this collaborative process, Navantia Australia increased the LLC cargo capacity from 20 tonnes and up to 60 tonnes within normal operational limits. This eliminated any perceptions of global strength limitations that had previously restricted the vessels ability to operate in a seaway. The result is a 300 percent improvement in performance at minimal cost.
This capability improvement enables loading and transport of all current and future land vehicles providing a force multiplier for Amphibious Forces.
The Essington Lewis Awards are designed to recognise excellence in industry and the Department of Defence collaboration, working together to overcome challenges or problems – ensuring that the ADF has or will have the materiel it needs, when it needs it, and at a cost, that represents value for money.
In Australia, Navantia's productive partnership with the Royal Australian Navy began with the contracts to design the Hobart Class guided missile destroyers (DDG) and continued with the design and co-manufacture of the LHDs, the design and construction of twelve LHD landing craft (LLC), and the recent contract to design, build and maintain two Auxiliary Oiler Replenishment Ships (AOR). Established in 2012, Navantia Australia is the Design Authority and delivers platform system design and integration services for classes of Navantia designed vessels. Navantia Australia is leveraging Industry 4.0 technologies to develop smart sustainment solutions to deliver intelligent asset management.