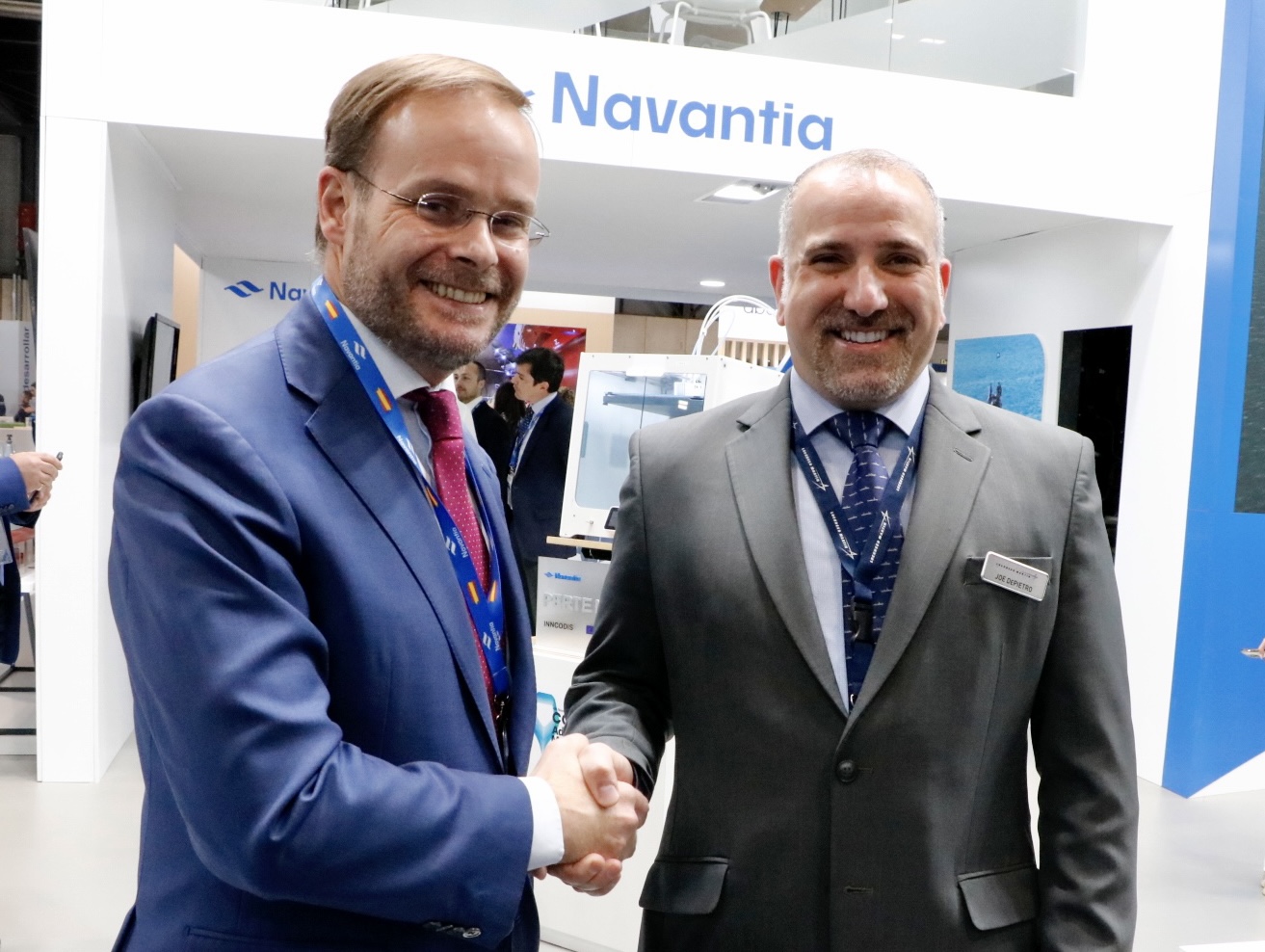 For the first time ever, Lockheed Martin and Navantia Sistemas successfully formed a common operational picture information between the new International Aegis Fire Control Loop (IAFCL) and SCOMBA (Sistema de Combate de los Buques de la Armada).
Navantia Sistemas is the Spanish Navy Combat Management System design agent for Spain's Ministry of Defense's new F-110 Bonifaz Class Frigate program.
F-110 is a five-ship program with a primary mission of Anti-Submarine Warfare with Anti-Air Warfare capability. Each object identified by one of the ship sensors is assigned a track by the combat system. The F-110's combat system is a novel concept for an Aegis platform. While most Aegis platforms use the Aegis Combat System, the F-110 combat system design allows SCOMBA to manage the ships tracks.
From Moorestown to San Fernando: Innovating through Partnership
The track exchange demonstration, held at Lockheed Martin's Aegis-SCOMBA Integration Center in Moorestown, NJ, was supported by an international engineering team, including members from Lockheed Martin, Navantia Sistemas, United States Navy, DGAM (Directorate General of Armament and Material) and Spanish Navy. The IAFCL was able to send simulated SPY-7 radar data to SCOMBA and receive the associated SCOMBA host track in return, as well as receive non-IAFCL tracks from the SCOMBA system.
This event followed years of hard work by the collaborative international design, software, and integration teams from Lockheed Martin and Navantia Sistemas. IAFCL computer program code is built from the Aegis Common Source Library (CSL). The successful test at the Aegis-SCOMBA Integration Center proves that IAFCL can be integrated into a larger host nation combat system.
Joe DePietro, Lockheed Martin's Vice President of Multi-Domain Combat Solutions, said the company's 25 year partnership with Spanish Navy and Navantia has yielded successful integrations between the Aegis Weapon System and the F-100 and F-110 frigates for the Spanish Navy, as well as frigates for the Norwegian and Australian Navies.
"We remain firmly committed to our industrial partnerships in Spain," DePietro said. "We are continuing our decades-long cooperation with Navantia on the F-110 frigate program and collaborating on commercial opportunities to export the platform and its systems."
The Lockheed Martin and Navantia Sistemas teams continue to mature the interface between the two systems, exchanging development plans and testing results. This will lead to the first F-110 IAFCL computer program export, delivery, and installation at Navantia's Land-Based Test Site in San Fernando, Spain in 2024.
Looking Ahead: Combat System Light Off
This initial IAFCL and SCOMBA integration was the critical first building block to reach Combat System Light Off for the first ship of class, F-111, in 2027. The F-110 computer program integration and test will continue after land-based test site integration with the first Solid State SPY-7(V)2 Radar Engineering Development Model being installed at the Aegis-SCOMBA Integration Center in 2024.
Navantia Defence Systems and Services director Donato Martínez said the company's long-term collaboration with Lockheed Martin is marking a new milestone that places it at the technological vanguard of military shipbuilding.
"On the basis of work and solid relationships, both companies are now developing the F-110 frigates — the new generation, state-of-the-art frigates for the Spanish Navy", Martínez said. "International collaboration and technological advantage are the foundations upon which a robust, agile and flexible defense is based, and not only governments and the armed forces but also industry has a crucial role to play."
In addition to the ships and Moorestown land-based test site, the radar and combat system will also be installed at the Spanish Navy's Centro de Integración de Sistemas en Tierra facility in Rota, Spain, prior to installation on board the F-110 frigates.
 "With Lockheed Martin's focus on ensuring our customers stay ahead of ready," DePietro said, "it's important we develop and deliver mission-focused defense capabilities by innovating with agility, urgency, and affordability. This integration is another step forward in providing Spain with the world's most advanced and capable weapon system."