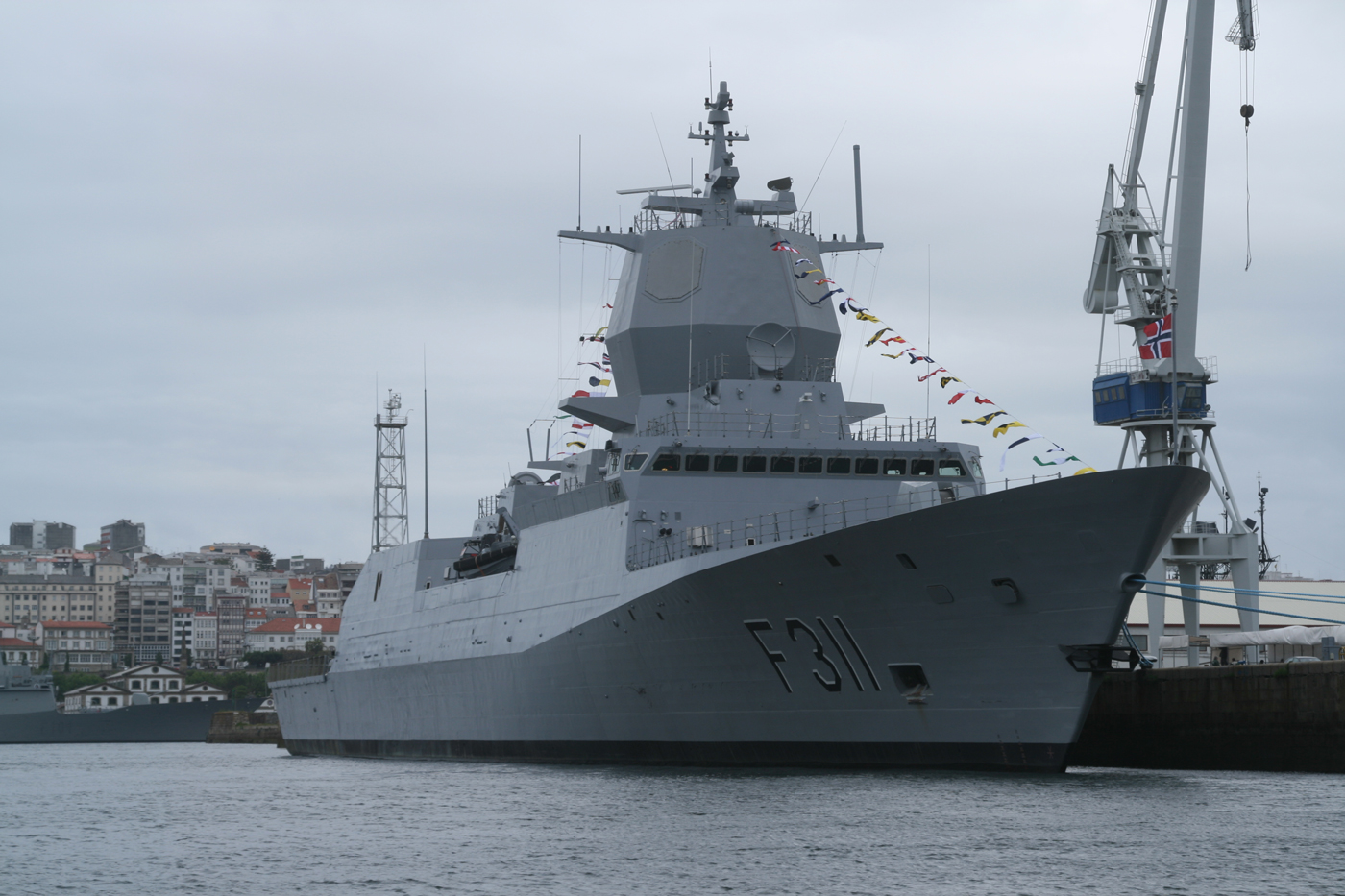 The Norwegian Defence Material Agency (NDMA) has congratulated Navantia and its subcontractors for the successful completion of the tropicalization of HNoMS F-311 Roald Amundsen, second of the Fridjof Nansen Class (F310) that Navantia designed and built for the Norwegian Navy between 2000 and 2011.
These works, for which the contract was signed on July 2020, has significantly improved the cooling capacity of the F311 frigate, which will allow it to navigate in conditions of much warmer ambient and water temperatures than the traditional operational scenarios of the Royal Norwegian Navy.
The modification, taken place from January to June 2021, has consisted on the replacement of the 3 refrigeration plants and the modification and increase of the air-cooling equipment in the engine rooms. The installation of this new equipment also has entailed the change of pipes, conduits, wiring, electrical panels, etc. that has made this program a great challenge both for the development of all the necessary engineering and for the execution of the works, both dismantling and installation, between Ferrol and Norway.
Another great challenge of this program is the platform on which the engineering has been developed. The F310 was developed with currently inoperative computer tools, so the decision has been made to develop the program already in Siemens NX in order to align it with the new Navantia digital platform. For this, 3D models of the necessary blocks were already migrated, and construction engineering work was developed in this tool.
The whole contract has been conducted under rigid sanitary protocols due to Covid 19, from travel restrictions, meeting restrictions or quarantines of the staff moved to Bergen, witch has been an additional challenge for all the workers. NDMA has praised the team abilities for adapting to this situation.
In words of Commander Espen Holtar, "during the project, Navantia has shown themselves as a relevant and trustworthy supplier with knowledge and ability to deliver in accordance to original and new requirements in the project". Furthermore "it is worth mentioning that NDMA will be using this project as a model for future projects on the Nansen class frigates".
Miguel Diaz, Navantia liaison engineer and works manager in Norway has highlighted the support and collaboration of all Navantia team and other subcontractors as Quest Global, Imafer, Soamar, Electro Rayma and Bulbo.
"We have been scored 9,5 out of 10 by the NDMA, for the fourth year in a row, and this has been possible thanks to a team of extraordinary professionals who have performed their work with the highest level of competence, qualification and ability" he adds.