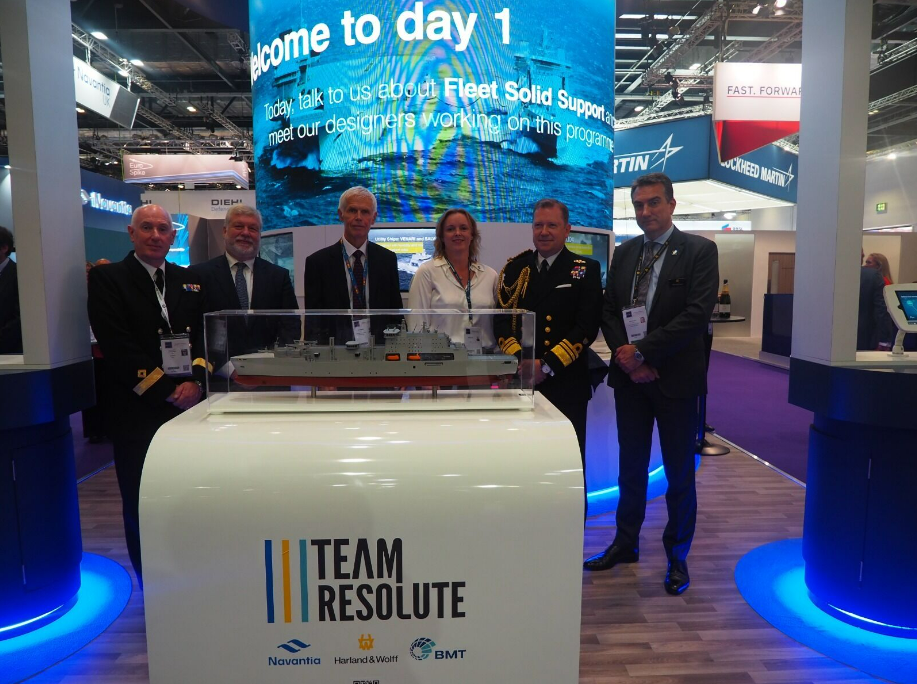 Navantia has been participating since Tuesday in the 2023 edition of DSEI, the defence and security exhibition held in the United Kingdom, which brings together around 35,000 visitors from 2,800 companies and representatives of Governments and Armed Forces.
On the first day of the exhibition, Navantia has participated, along with its partners of Team Resolute, in the presentation of a model showing the progress in the design of the logistic support vessel FSS (Fleet Solid Support) destined for the Royal Fleet Auxiliary to support the operations of the British Navy around the world.
The presentation of the model took place at the stand of BMT, Team Resolute's partner in charge of the ship's design, with the participation of officials from the UK's Defence and Sustainment Agency (DE&S), as well as the companies in charge of the programme: Navantia, Navantia UK, BMT and Harland & Wolff.
The three FSS vessels will be tasked with providing solid stores and ammunition to Royal Navy ships deployed on missions. With a total length of 216 metres each, the equivalent of the length of two football pitches, they will be among the largest ships in the British fleet, second only to the Queen Elizabeth class aircraft carriers.
The programme will involve more than 14 million man-hours of work in Spain and the UK. Production of the blocks will begin in 2025 and all three ships will be operational by 2032.
On the other hand, at DSEI 2023 Navantia will present to international delegations the progress of its main programmes for the Navy, in particular the S-80 submarine and the F-110 frigate programme, the latest generation frigate which includes a digital twin.