Conveyors of state-of-the-art expertise
Navantia's Technology Transfer model has been tested on many occasions and in a variety of cases. It is based on flexibility and adaptability to the conditions at the local shipyard, with an extensive variety of viable technology transfer scenarios: main contractor, subcontracting, consortium and joint ventures). Navantia offers its collaboration to the shipyard, contributing with its expertise and experience and providing guarantees for the feasibility of the programme in terms of cost and deadline.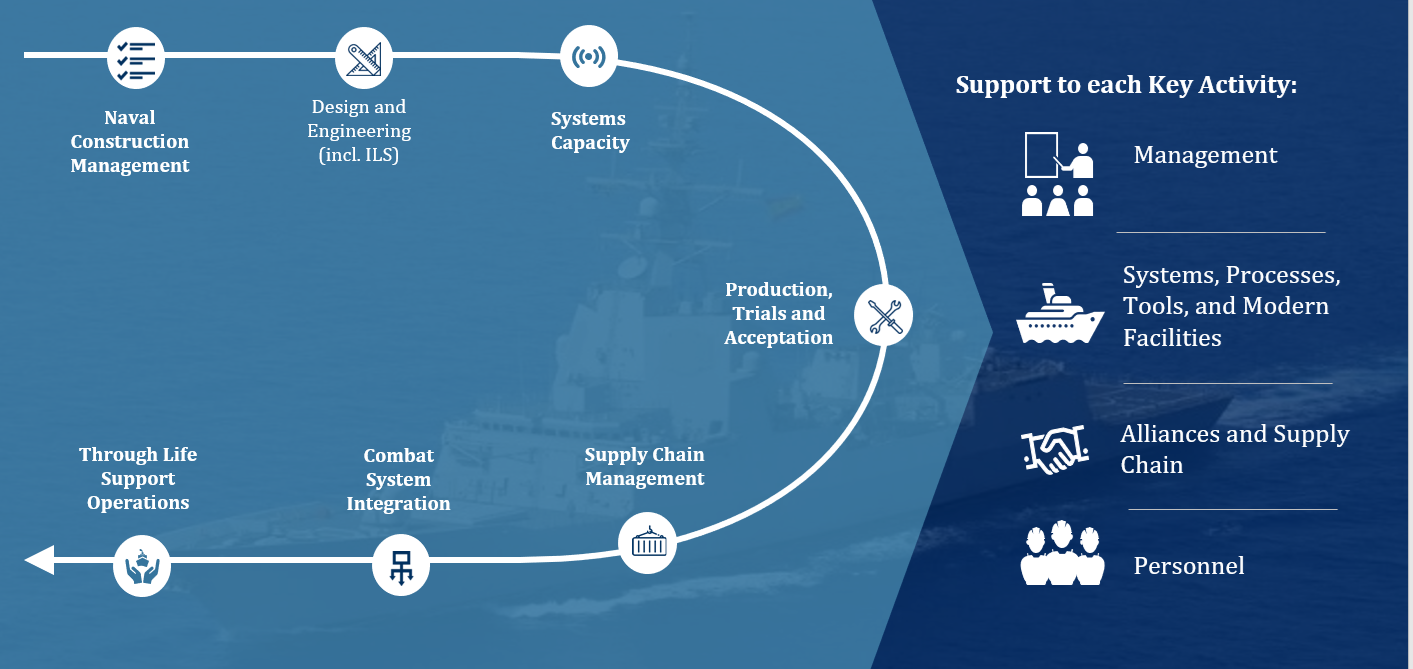 Transfer of Technology can affect any area of the project and the processes for carrying it out are applied at every phase:
Design capacity and engineering management
Production management capacity
Technician and engineer group
Worker and specialist group
Modern facilities
Systems, processes and tools
Local supply chain
Strategic partners (Navies)
Navantia can offer Transfer of Technology (ToT) for all the activities in the project's value chain, allowing for long-term capacity development.
Navantia's Transfer of Technology Tools
Industrial inspection to assess the local shipyard's capacities
• Knowledge
• Resources available
• Infrastructure
• Industrial capacities
Industrial inspection to assess the local shipyard's capacities
• Knowledge
• Resources available
• Infrastructure
• Industrial capacities
• Industrial
• Operational and maintenance
Training
Training
• Industrial
• Operational and maintenance
Consultancy services
• Technical assistance
• Resident team that provides support for management and knowledge processes and for infrastructures and industrial capacity
Consultancy services
• Technical assistance
• Resident team that provides support for management and knowledge processes and for infrastructures and industrial capacity
• It is necessary for the construction of the vessel
Technical IT package
Technical IT package
• It is necessary for the construction of the vessel
The ToT model adopted by Navantia was created from lessons learnt from the technology transfer programmes. Its main advantages are:
Planning for investments, resources and materials
Usefulness in the negotiations for assigning tasks
Advantageous in identifying areas of knowledge that need to be conveyed
Making it possible to take into account all the aspects affecting the programme
Serving as the basis for the assessment of risks that affect the programme
Optimising investment, providing a clear and objective view of the local partner's needs and requirements